National Philanthropy Day (NPD) is a celebration of philanthropy – giving, volunteering and charitable engagement – that highlights the contributions that our neighbors who are active in philanthropy have made to our lives, our communities and our world.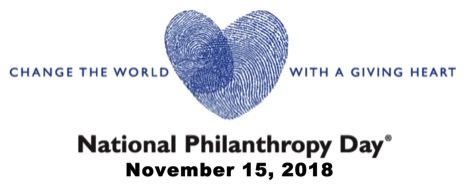 NPD was original conceived of and organized by Douglas Freeman in the 1980s. The first official events were held in 1986, when President Reagan signed the official NPD proclamation. The day provides an opportunity to reflect on the meaning of charitable giving and all that is has made possible. NPD celebrates the selfless contributions individuals and organizations make to countless causes and missions around the world.
While celebrated globally, NPD is also a grassroots movement to increase public interest and awareness of the importance of philanthropy. NPD showcases effective philanthropy, inspiring new ideas and initiatives that strengthen our community.
Tickets
2018 National Philanthropy Day
November 15, 2018
6:00-8:00pm
MEZ
5410 Page Rd.
Durham, NC 27703
Ticket sales have been closed, but you can purchase them on site.
Award Winners
Outstanding Young Philanthropist: Honor an individual or group of individuals age 21 and younger who demonstrate outstanding commitment to the community through their direct financial support, development of charitable programs, volunteering or leadership in philanthropy.
2018 Winner: Christina Williams
Christina Williams epitomizes compassion and service. A high school junior, Christina is a regular volunteer at three nonprofits in the Triangle, having volunteered 462 hours of service in 2017 to the SPCA of Wake County, Meals on Wheels, and her local library. Her contributions to the quality of life in the Triangle range from being a Teen Leadership Corps member promoting literacy at the library, delivering meals for Meals on Wheels and cleaning cat rooms at the SPCA.
Christina's efforts as a volunteer have led to fundraising success for the library to purchase 200 new books for children, advocating for library funding and high-speed internet access at local libraries; and helping bridge the gap for those individuals who rely on libraries for access. Her service to Meals on Wheels not only brings those in need a hot meal, but also provides the clients a human connection that they may not otherwise receive. A passionate animal welfare advocate, Christina has conducted pet supply donation drives for the SPCA of Wake County, in addition to the weekend cleaning of cat rooms.
The commitment and desire to help make her community a better place is obvious in all that Christina does. Her impact in the community is noticeable to all, and she is showing others, both young and old, the importance of giving back, and that by doing so, builds a stronger community.
Excellence in Philanthropy: Celebrating an individual, couple, or group of people whose legacy of achievement is built upon impactful giving that includes innovative and exciting ways of encouraging and raising philanthropy.
2018 Winner: Brenda Gibson
Brenda Gibson began her career as a marketing professional for Wachovia Bank and BB&T. She became a commercial leasing broker in 1985. Later in 2003, she continued her career by starting an independent commercial real estate brokerage and consulting business. Brenda Gibson joined CBRE|Raleigh in March 2016 as a Senior Vice President on their Brokerage Services team.
Brenda is a highly involved community member. She has been a fundraiser for the Easter Seal Society of North Carolina and the Triangle United Way, as well as co-chairing the Wake County Capital Campaign for Occoneechee Council, Boy Scouts of America. She has served on the boards of Southlight and Greater Raleigh Chamber of Commerce and is assisting with the campaign for her church, Hayes Barton United Methodist. As a former board chair for the WakeMed Foundation, Brenda co-chaired its 2011 capital campaign that raised $50 million to build WakeMed's first children's hospital. Brenda currently serves on the Transitions LifeCare (formerly Hospice of Wake County) Board of Directors and co-chaired their recent successful Power of 10 Campaign. The goal of the project, and Transitions LifeCare, is to provide the best possible end-of-life care to the residents of this community. The benefits will be a reduced burden to hospitals and other community resources, a reduced burden on the families of patients, and an increase in the quality of life for those in this region.
From an early age and throughout her life, Brenda has dedicated her energies and resources to supporting causes and organizations that not only improve the quality of life for the living, but she has demonstrated continued support for those nearing the end of their lives, embracing the importance of quality medical care, emotional support, and spiritual guidance.
Outstanding Philanthropic Organization: Recognize a non-profit, religious or other organization having demonstrated consistent investments in the community, and/or innovative and impactful approaches to solving community problems.
2018 Winner: SECU Family House at UNC Hospitals
For 10 years, SECU Family House at UNC Hospitals has offered a safe, nurturing, affordable home for patients and their loved ones who travel great distances to UNC hospitals for life-saving procedures and serious illnesses. Family House provides lodging, meals, supportive programs, transportation and a caring support network for 2,300 guests a year from all 100 North Carolina counties and beyond.
Family House is a critical link in alleviating barriers to accessing the highest quality health care, and the 40 rooms are in constant use, with two out of every three guests who are referred being turned away. In late 2015, Family House embarked on an expansion campaign to raise $8 million and to nearly double the size of the house, create a larger support network, and impact the health of more patients and families. The campaign surpassed its original goal, and is now 90% complete in the aim to raise $9.6 million!
Since 2008, more than 22,000 guests have stayed at the Family House, and thanks to hundreds of Greater Triangle Area volunteers (the life-blood of the house) who logged over 14,000 hours last year, guests are able to rest, heal and gather strength, all while enjoying meals, laundry services, transportation and warm smiles offering social support. These services help fortify the emotional and physical health guests need to face the challenges of devastating illnesses.
Outstanding Corporation: Honors a business or corporate foundation that demonstrates outstanding commitment through financial support and through encouragement and motivation of others to take leadership roles toward philanthropy and community involvement.
2018 Winner: Freudenberg Group
Freudenberg Group has worked with Communities In Schools of Durham for the last two years to serve Neal Middle School, Shepard Middle School, Hillside High School, and for the upcoming school year–Durham Performance Learning Center. They are committed to truly impacting public school education through our unique public-private partnership that provides case management, tutoring, exploratory learning opportunities, post-secondary planning assistance and more to CIS students in Durham.
Comprised of Freudenberg IT and Freudenberg Performance Materials, the group has contributed hundreds of hours of volunteer time and invested nearly $200,000 in the program. Team members from Freudenberg are passionate, engaging, and genuinely interested in the success of all of our students in Durham. They have made it clear that this partnership is more than a financial commitment or a corporate social responsibility checkbox–but it is a true investment in the future of our community through both human capital and financial support.
Freudenberg has supported the Graduation & Success Coach Program at a number of schools, directly impacting over 100 CIS case-managed middle school and high school students in our community. Indirectly, they've impacted over 1,000 students. This past school year, they provided small scholarships to nine seniors from Hillside High School, totaling $8,000. They also gifted Lego robotics kits to the robotics department at Hillside New Tech, valued at over $2,000.
Freudenberg's volunteer contributions were as valuable as their financial contributions. Students have been able to meet people from different backgrounds working in the technology and manufacturing sectors–people who look like them, come from similar backgrounds, and have shared interests. They've provided job shadowing for interested students; and some team members have gone the extra mile to offer mentoring support.
Outstanding Fundraising Professional: Celebrating commitment to the fundraising profession, knowledge of the industry and leadership. This individual exemplifies the ethics and standards set forth by AFP, has a track record of advancing philanthropy in their workplace and the greater community, and is a current AFP member in good standing.
2018 Winner: MaryBeth Carpenter, MBA, CFRE
MaryBeth is a veteran fundraiser with 25 years of experience at higher education and social service agencies in four states. During her career, MaryBeth has raised over $41 million for nonprofits and higher education clients. She began her consultancy, Greater Gifts Consulting, in 2010 and has assisted numerous Triangle-based nonprofits with strategic planning and fundraising since then. Today she is also the Executive Director and Founder of Preservation Zebulon, which helps to save and protect the legacy of historic homes in downtown Zebulon. Thanks to Marybeth, Preservation Zebulon has 501c3 status, a top notch board, budding membership and has already secured a few grants and event funding to fulfill the mission of getting a National Register Historic District in Zebulon. Marybeth also serves on the Wake County Historic Preservation Commission.
MaryBeth is a Certified Fundraising Executive and also a Certified Gift Planning Associate. She is a Past President of the Triangle Chapter of the Association of Fundraising Professionals, and served on its board for six years, impacting hundreds of fundraising professionals and serving in numerous positions within our local chapter. MaryBeth also serves on other Triangle non-profit boards and teaches the CFRE review course and gives trainings on fundraising across North Carolina. She is also an award winning writer and a photographer.
MaryBeth earned her Master's in Business Administration from Case Western Reserve University in Cleveland, Ohio and her Bachelor of Arts in Journalism from The Ohio State University in Columbus, Ohio. She resides in Raleigh, NC.
Sponsors
National Philanthropy Day is an opportunity to highlight your organization's charitable activities with a wide audience of investors, donors, partners and the community at large. More than one hundred of those most active in the Triangle region's vital philanthropic community come together for this event, celebrating contributions of philanthropy to the enrichment of our world.