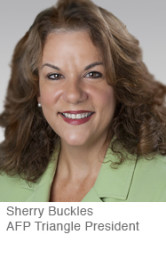 Spring is such a beautiful time of year in our region. The earth quite literally explodes with nature's beauty and bounty. It is also a time of celebration and gratitude with graduations, weddings, galas and events that fill up most weekends and many week night evenings. But I also find that the busyness on both the personal and professional sides of life leave us feeling drained. Chaotic. It is, at times, a struggle to enjoy the good things happening without feeling overwhelmed about all that is yet left to do. We are racing to meet goals, raise more money, make more visits, and write more proposals – only to feel more buried in emails and meetings. Not to mention our family and personal commitments.
Barbara Ehrenreich, a journalist and political activist, writes:
"The question is why one should be so inwardly preoccupied at all. Why not reach out to others in love and solidarity or peer into the natural world for some glimmer of understanding?"
This really resonated with me as I think of ways I can actively find more balance.
The AFP Triangle chapter has stepped up this year with more offerings for networking and education to both members and non-members. To date we have held SEVEN events from pop-up networking events, Philanthropy Forecast, Ethics training, mentoring match ups, and our first of four educational breakfasts of the year. For me, these help us answer Barbara's question about reaching out and finding solidarity and understanding in the world and work of philanthropy. These meetings and events are YOUR meetings and events to give to- and get from- what you need. You can find insights about your recent and upcoming activities, help get questions answered, and simply feel supported and understood in your profession.
Another way to keep some semblance of normalcy in life is with humor. I wish I had discovered earlier in my life that a sense of humor is probably the greatest medicine. Together we need to laugh more, listen better, and reach out and support our common efforts and be advocates for each other in our quest to make the Triangle, and humanity, better. Maybe through humor, love and connection we can become more outwardly preoccupied and appreciate the good that surrounds us.
Check out our website for upcoming events and get out and meet your AFP Triangle Chapter-mates. I think you will find more than just a glimmer of understanding.
Cheers,
Sherry