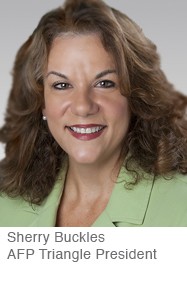 Happy New Year!
It is with honor and humility that I step into the role as President of the Triangle AFP Chapter. For the next year I hope to follow in the footsteps of those who have led before me, and work with you to make our chapter even better, with more access to professional growth and networking opportunities, and by bringing more resources into our chapter to help plant seeds for the leaders to come.
Our chapter membership represents a great and diverse cross section of philanthropy in our region. We have members from all the large and small universities nearby – both public and private – as well as small and large non-profits. One man shops, to regional offices for national organizations. Our members come from long, successful non-profit careers to those who are making development their second, or third, career choice. One of the pleasures of being involved with AFP here in the Triangle is the myriad of people you can meet on a regular basis who will challenge and inspire you to be better, to learn more, to extend your reach, to stretch yourself. To grow.
Our Mentorship Program is one of the best examples of ways to grow – you can mentor, be mentored, or participate in a peer-to-peer partnership. I guarantee whichever you decide to get involved in, you will learn something. And you will grow from the experience – try it out and see for yourself!
Our Pop-Up Networking events from the last year were a great success. We have hosted these gatherings across the Triangle and enjoyed great opportunities to network with those from inside and outside our membership circles. Check the website for new Pop-Ups coming soon!
Our Coffee and Conversations has grown the past two years to be one of the most popular fall programs we offer. 2016 will keep raising that bar with timely topics and speakers, but most importantly, it will include YOU! That is what makes our programs interesting and great learning opportunities – the participation of our members and attendees.
If you didn't get to come to National Philanthropy Day in 2015, I can tell you it was a great event. Held at a new venue – The Frontier in RTP – we had great food and fellowship with colleagues across the region and celebrated the philanthropy that gets us all out of bed in the morning. There are photos from the event on our webpage that I hope you will check out, and be on the lookout for NPD 2016 – it promises to be another wonderful way to close out the year!
A new year brings a promise and hope for new things. For change. I hope wherever you are in your career and your personal life, that 2016 holds great promise for you.
Sincerely,
Sherry Buckles